Why you should be concerned about recycling electronics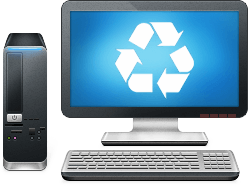 E-waste is a Huge Environmental Concern
As technology advances and renders electronics and other electrical equipment useless rather quickly, it often leads to these obsolete items ending up in landfills. Some of the devices release toxic chemicals into the land and atmosphere.
Data Security Issues
Mishandled electronic equipment that is not completely and securely destroyed can put your personal information at risk of being put into the wrong hands. We ensure that our certified equipment handlers take every precaution to guarantee the data has been eliminated before further processing.
Our facillity in Manhattan has become a leader in dis-assembling, sorting, repairing and reselling electronics. Our process guarantees we can maximize the value of the e-waste and minimize any chances of hazardous materials ending up in landfills.